Guitar Synthesizer using the CD4046
This Guitar Synthesizer circuit creates the sound similar to a synthesizer to be used with a guitar. To achieve the objective, the CMOS PLL CD4046 integrated circuit is used, producing an unusual sound from a guitar which sounds very similar to a synthesizer.
The CD4046 integrated circuit is a PLL (Phase-Locked Loop) consisting of a low power voltage controlled linear oscillator (VCO) and two different phase comparators that have a common input signal to the amplifier and a common input to the comparator .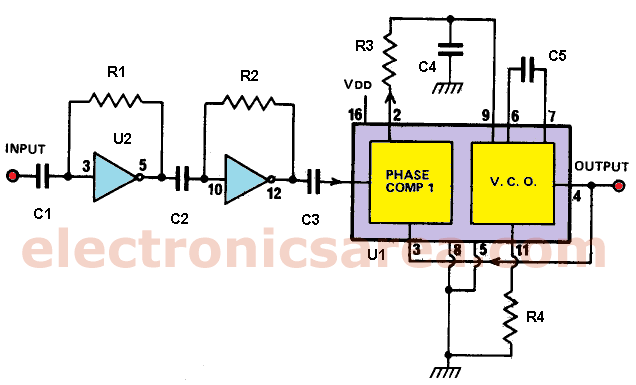 How the Guitar Synthesizer works
The signal coming from a guitar is amplified by means of two of the amplifiers in the CD4007. See diagram.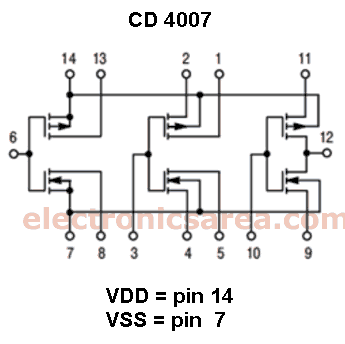 The amplified signal is used by the phase comparator to block the VCO at the frequency of the musical note being played. The VCO will not oscillate until the tone sounds when the low pass filter shown in the diagram is used. See resistor R3 and capacitor C4.
If the value of resistor R3 is increased, the VCO will oscillate continuously to approximately one kilohertz (without input signal). This allows a smooth change between the different musical notes being played.
The base frequency can be changed by varying the resistor R4
List of Guitar Synthesizer Components
1 PLL CMOS 4046 IC (U1)
1 CMOS CD4007 IC (array of MOSFET transistors) (U2)
2 4.7M resistors (R1, R2)
1 100k resistor (R4)
1 15k resistor (R3)
4 100 nF (nanofarad) capacitors (C1, C2, C3, C4)
1 10 nF capacitor (C5)
Original design by: R. Barnett