Capacitor Discharge Process
In a series RC circuit, a capacitor does not immediately discharge after being disconnected from a power source of direct current (see switch on the circuit diagram).
When the switch passes from the A to the B position, the capacitor voltage Vc decreases from Vo (initial voltage on the capacitor) to 0 volts, as we can see on the diagram below.
The current (I) has a maximum initial value of Vo/R and slowly decreases down to 0 amps (see diagram below). The current through the resistor (R) and the capacitor (C) is the same. Remember that a series circuit the current is the same for all elements.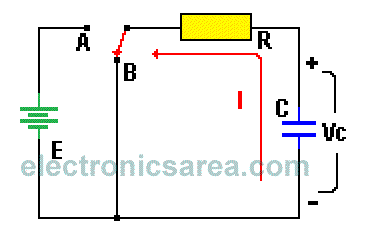 The value of Vc (capacitor voltage) for any instant is: Vc = Vo x e-t/T
The value of I (current passing through R and C) at any instant is: I = -(Vo/R) x e-t/T
where: T = RC = Time constant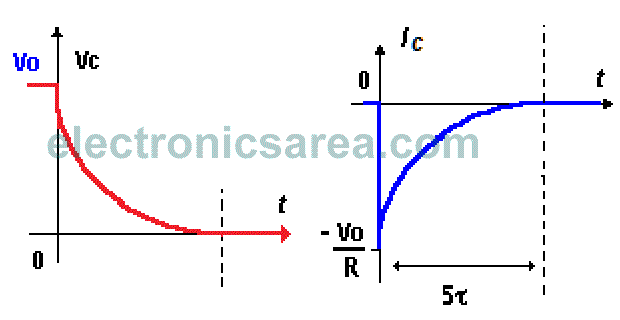 Note: If capacitor is initially charged and has a voltage E, we have to replace the value of Vo with the value of E, in the formulas.