Capacitor Charging Process
A capacitor is a device that, when connected to a DC power source, has a interesting behavior. See the diagram below.
When the "A" switch is closed, the current "I" suddenly increases to its maximum value (such in a short circuit) and has the value I = E/R amps. Then it gradually decreases until the current has a value of 0 "zero" amps as shown in the diagram below.
On the capacitor charging process, the voltage across the capacitor does not change instantly when it rises from 0 to E volts. E is the value of the DC voltage source connected in series with R and C. (See the diagram).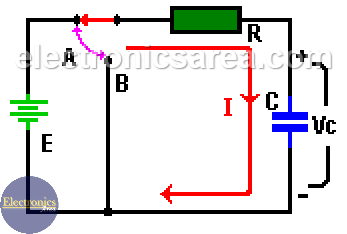 The time it takes the voltage on the capacitor (Vc) to go from 0 volts to 63.2% of the supply voltage (E) is specified by the formula: T = RxC , where:
The resistor (R) is in ohms (Ω).
The capacitor (C) is in milifaradios (mF).
The time (T) is in milliseconds. (mS).
After 5xT (5 times T) the voltage rises up to 99.3% of its final value. The value of T is called: "Time Constant".  Analyzing the two charts below we can see that they are divided into:
A transient part where the values of Ic and Vc varies with time. (Approximately 5 times the time constant T).
A stable part where values of Vc and IC are constant.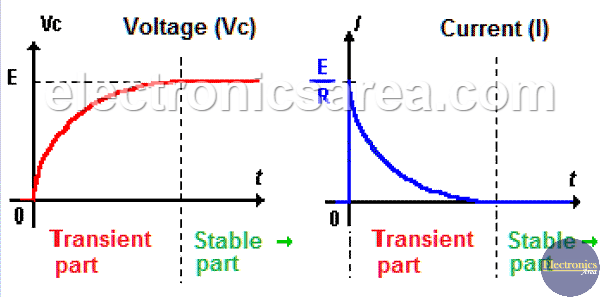 Vc, Ic and VR values at any time, can be obtained using the following formulas:
Vc = E + (Vo – E) x e-t/T, where Vo is the initial voltage of the capacitor (in many cases this is 0 Volts).
Ic = [(E – Vo) / R] x e-t/(T/R), where Vo is the initial voltage of the capacitor (in many cases this is 0 Volts).
VR = E x e-t/T
where: T = R x C
[crp limit="4" heading="1" cache="1"]