Wirewound resistor (Wire wound Resistor)
What is a wirewound resistor?
A Wirewound resistor is a resistor made with a conductive wire of a high resistivity. This wire is made of a special alloy and it is wound on a support tube of refractory material such as ceramics, porcelain, etc.
Note: A refractory material doesn't allow the conduction of heat, on the contrary it reflects it. The value of a wirewound resistor is determined by the cross section of the wire, its length and the resistivity of this alloy.
Why to use wire wound resistors?
The wirewound resistors are used when the power to dissipate is very high. Once this resistor has been built it is usually coated with a layer of vitrified enamel.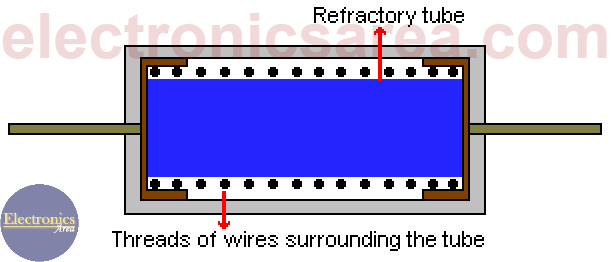 This type of resistor can be compared to the filament of an incandescent lamp, where the power is transformed into heat (In an incandescent lamp, this power is transformed into light and heat).
The longer the wire is and the larger its section is, the greater will be the ability to endure the power of dissipation, since the surface radiation of heat is greater.
Wirewound Resistor value and power
Wirewound resistors are manufactured with values up to 100 Kilohms approximately, because of the physical dimensions problems. The goal is to achieve the biggest dissipation of heat in the smallest possible space. Wirewound resistors can generally dissipate powers from 5 watts up to 100 watts or more.
The diagram shows a blue refractory tube, and threads of wires surrounding it. The black spots represent the wires that are coming in and out from the screen forming a reel of a very tight spring around the tube.
Wirewound resistor are available as fixed and adjustable to be used as a rheostat or potentiometer.