Photodiode – Light Detector Diode.
Photodiode looks similar to the common LED, but it has a feature that makes it very special. It is a device that converts light into electric current.
This component can be used as a light detector device, because it converts light into electric current. Any variation on the light causes a variation on the electric current. This variation is used to report that there was a change in the level of illumination on the photodiode.

Incident Light (red  arrows). Direction of the generated current (blue arrow).
This current flows on the opposite direction of the arrow of the diode and is called leakage current.
It can be forward biased (the current flows on the direction of the arrow of the diode). In this case, the light on the photodiode has no effect on this component and it works like a common diode.
Most photodiodes are equipped with a lens. This lens focuses the incident light so the reaction to light exposure is better. Unlike the LDR or photoresistor, it responds to the changes from darkness to light and vice versa much quicker, and it can be used with circuits with shorter response time.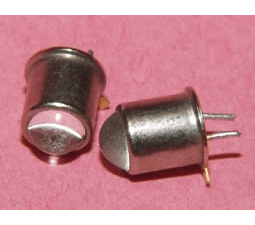 Image from: Wikipedia
When we place a photodiode between the collector and the base of the bipolar transistor (with the cathode of the diode pointing to the collector of the transistor), we have the equivalent circuit of the phototransistor.
Main features
Responsitivity: Is the radio of the generated current to the incident light.
Dark current: The current through the photodiode in the absence of light, when it is operated in photoconductive mode.
Quantum Efficiency, Q.E.: It is  defined as the fraction of the incident photons that contribute to photocurrent.
Non-Linearity: A silicon photodiode is considered linear if the generated photocurrent increases linearly with the incident light power
Advantages
Excellent linearity of output current as a function of incident light
Low noise
Low cost
Compact and light weight
Long lifetime
High quantum efficiency. (typically 80%)