Car Battery Booster Circuit
This Car Battery Booster Circuit, is very useful when the car battery has low charge or does not deliver the expected current to operate the starter motor. This can happen on cold days, when the car has not been used for a while, when the head lights were left on, etc.
The secret of this circuit is to have a small auxiliary battery with a capacity of 1 or 2 amps/h.
How the Car Battery booster circuit works?
When the ignition switch is turned ON, the R2 resistor, the zener diode (ZD1) and the relay (RLA), connect the auxiliary battery Bat 1 to the starter circuit. The zener diode and resistor R2 assure us that the relay, once energized, remains in that state.
Meanwhile, the starter motor lowers the voltage of the main battery due to the high current demand of the starter motor.
When the main battery voltage drops, D1 diode is reverse biased and D2 diode is forward biased, thereby allowing the auxiliary battery (Bat 1) to supply the necessary current to the starter motor.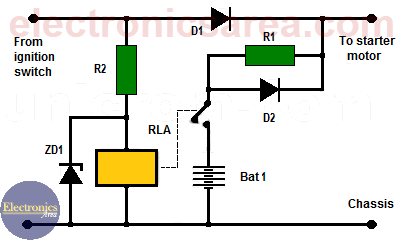 Car Battery Booster circuit (Battery Booster Circuit)
Once the car engine is running, the voltage of the main battery increases, the D1 diode is forward biased and the D2 diode is reverse biased.
When the car engine is running, the current is delivered by the main battery, and the auxiliary battery is charged through the resistor R1. D1 and D2 diodes must be 50 V and withstand 10 amperes minimum.
The relay must have enough capacity to withstand the current demand of the car starter. A relay of 6 Volts / 5 Amps will work properly.
Note: The R1 resistor value has to be chosen to limit the current to a safe value in order to allow the battery to be charged with no damage.
List of components for the Car Battery booster circuit
1  10 ohms resistor, 1 watt (R1)
1  27 ohms resistor (R2)
2  50 V / 10 amps diodes, 10A01 or similar (D1, D2)
1  6.2 V / 2 watts Zener diode, 1N5920B or similar (ZD1)
1  6 V / 5 amps relay (RLA)
1  12 V small battery, with a 2 amps minimum current capacity (Bat 1)
1 resistor (R1). See text.
Original design by: M.C. Polgreen.