12V Car battery charger with SCR and transistor
The 12V car battery charger with SCR circuit is useful when you want to charge a lead acid car battery that for some reason was discharged. This may happen if you forget to turn off the car lights, the radio, etc.
How the 12V car battery charger works?
This simple battery charger uses a thyristor that allows the current to flow only in one direction, achieving a slow battery charge due to the fact that a half-wave rectified input signal reaches it.
The SCR only conducts when a trigger signal reaches the G pin or gate. The trigger signal comes from the transformer, through resistor R1 and diode D3.
The group of resistors R3 and R5 with the potentiometer R4 sense the battery voltage, and it is fed back through the diode D4 and the transistor Q1, towards the gate of the thyristor.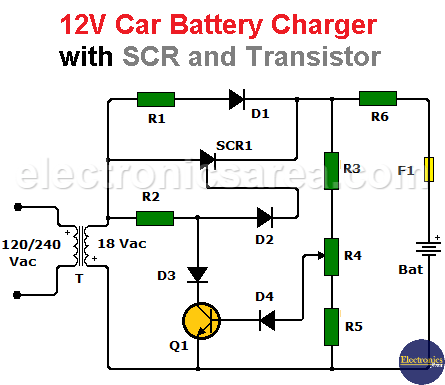 When the battery is not fully charged, the voltage at the arrow of the potentiometer R4 is not enough to bias the transistor Q1.
So the transistor do not get into conduction and the trigger signal coming from the transformer, through resistor R2 and diode D2, to reach the thyristor gate.
When the battery is fully charged, transistor Q1 get into conduction, reducing the voltage at the junction point between resistor R2 and diode D2. This prevents the thyristor from conducting and stops current passing through it.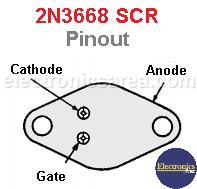 2N3668 SCR Package and Pinout
After this happens, a small holding current continues to charge the battery through resistor R1 and diode D1.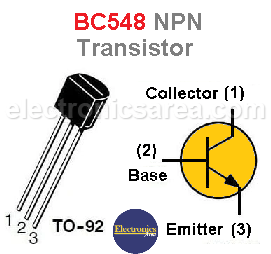 BC548B NPN bipolar transistor pinout
12V battery charger list of components
1 2N3668 / 2N2575 or similar SCR (thyristor), 400 Volts, 12.5 amps, TO3 package (SCR1)
1 BC548 or similar NPN transistor (Q1)
4 1N4001 or similar rectifier diodes (D1, D2, D3, D4)
1 22 ohms, 5 watts resistor (R1)
1 330 ohm resistor (R2)
1 820 ohm resistor (R3)
1 100 ohms potentiometer (R4)
1 100 ohm resistor (R5)
1 1 ohm, 5 watts resistor (R6)
1 2 A fuse (F1)
1 110/220 VAC to 15 VAC transformer (T), 2 amps or more.
Bat: is the battery under load