Ohm's Law and the Electric Power
Ohm's Law relates in one equation the voltage, the current and resistance. Resistance = Resistor's value.
A more complete expression of Ohm's Law is achieved using the electric power formula. Using the known formula of power: P = VxI, (Power = voltage x current), and its variants: V = P/I and I = P/V, additional equations are obtained.
These new equations allow us to obtain the values of power, voltage, current and resistance, with only two of the four variables.
Solving for P, we get: P = V2/R, P = I2 x R, P = V x I. (watts)
Solving for I, we get: I = V/R, I = P/V, I = (P/R)1/2. (amps)
Solving for R, we get: R = V/I, R = V2/P, R = P/I2. (ohms)
Solving for V, we get: V = (PxR)1/2, V = P/I, V = IxR. (Volts)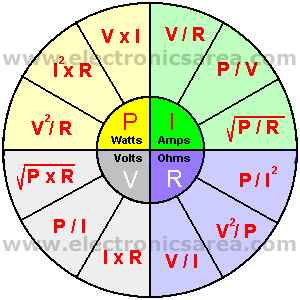 The diagram shows a complete summary of the formulas, arranged so that it is easier to memorize.
Note: The square root = ( )1/2.